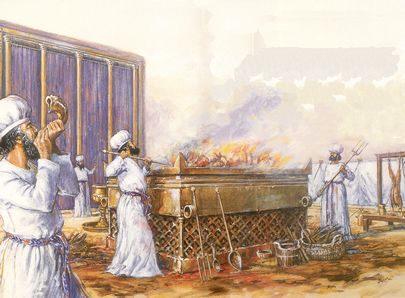 The word Leviticus means And He Called and the author of the Book is Moses. The Book of Leviticus does not state when it was written but the date of authorship is likely between 1450 and 1400 B.C., which is the approximate time that Moses led the Israelites out of Egypt and the approximate time of Moses death.
Leviticus 1:1 And יהוה called to Moses and spoke to him out of the tabernacle of the congregation saying, 2 Speak to the Children of Israel וְאמַרְת and you say to them, if any man brings an offering to ליהוה, let him bring את־ his offering from the cattle of his herd or flock. 3 If his offering is a burnt sacrifice of the herd, let him offer a male without blemish: he will offer אֹתֹו it (him) voluntarily at the door of the Tabernacle of the Congregation before יהוה.
Question: Was the offering always voluntarily? No one can be coerced to bring an offering. If someone is required to bring one but refuses to do so, the court may coerce him until he expresses his willingness. The righteous soul always wants to do the right thing, but external influences and temptations cloud a person's judgment. The coercion applied by the court merely counters those external influences and allows the essential goodness of the soul to come through. (Chumash)
Discuss: How does a parent coerce a child to willingly do what is right in יהוה's eyes? Isn't this how יהוה deals with us when we need to make a change in our life?
Question: One who makes a mistake or does something wrong, yet admits his error and corrects his ways, is considered on a spiritually higher level even than someone who never erred in the first place. How do you understand this? Do you agree? While it takes much strength and courage to continuously choose to do the right thing, it takes even more for a person to pick himself up once he's fallen. Human behavior naturally tends toward inaction — that is, continuing along in a certain way even if it's wrong. A person who overcomes his spiritual inertia and puts himself back on the path of doing what's right even after he's strayed off of it has accomplished something spiritually extraordinary and grown to a very high level.
Question: Why do you think some people have a hard time admitting they made a mistake? Some people mistakenly think that making a mistake is a sign of weakness. So they would rather deny it to save face. The reality is just the opposite — admitting your errors is a sign of real strength. No one is perfect, and the only way to grow is by recognizing your mistakes and taking responsibility for them.
Spiritual Exercise: Have courage to admit your mistakes today. Walk on a higher level of righteousness.
Download the complete PDF file