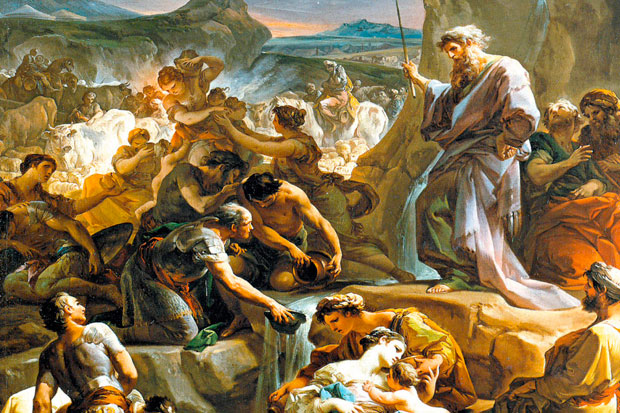 Numbers 20:11 And lifted up Moses את־ his hand and he struck את־ the Rock with his staff twice: and the water came out abundantly and the congregation and their animals drank the water.
Question: What does את־ the Rock symbolize in verse 11? Concerning the את Rock which Moses struck…as the water came forth it was symbolic of את Yahshua our Messiah. Now יהוה Father had told Moses to speak to the Rock and because Moses did not believe, he struck the Rock and was not permitted into the Promise Land. Notice where the את is placed in Numbers 20:11 And lifted up Moses את his hand and he struck את the Rock with his staff twice…implying the presence of את Yahshua was upon the Rock. Yahshua described the living water He had to give in John 4:14 but whoever drinks of the water that I shall give him will never thirst. But the water that I shall give him will become in him a fountain of water springing up into everlasting life. Paul reminds us the Rock which Moses struck was Yahshua the Messiah in 1 Corinthians 10:4 And did all drink the same spiritual drink: for they drank of that spiritual Rock that followed them: and that Rock was Messiah. Something to think about: Could the reason that Moses sin was so severe for striking the את Rock twice was because he actually defiled both יהוה Father and את Yahshua (Yah-head) represented together in the Rock? C-MATS
Question: Should we expect to be perfect? Nobody likes to make mistakes. Sometimes we wish we were perfect, or feel that we should be. But the truth is that even the greatest people sometimes make mistakes. If even Moses, the greatest of men, could make a mistake, we shouldn't expect ourselves to be perfect. We have to try our best and learn from the mistakes we do make.
Question: What does it mean "to err is human?" It means that as human beings we are bound to make mistakes sometimes. יהוה didn't intend for us to be perfect. Rather that we should always try to do our best and be happy with the results, even if they're not perfect.
Question: Do you believe good can come from our mistakes? Can you think of any personal examples? One good thing is that we can learn to be more patient and accepting with other people. When we see that we're not perfect, we don't expect others to be either. Also we can discover new things that we wouldn't know about if we didn't make the mistake. For instance, making a wrong turn and discovering a beautiful park, etc.
Spiritual Exercise: Do not be hard on others that make a mistake. Forgive yourself if you make a mistake. Do you remember a lesson you learned from making a mistake?